Proximus launches "Epic", a new mobile offer for millennials

Today, Proximus is expanding its mobile offer with Epic, a new mobile offer by and for millennials. With the launch of Epic beats and Epic stories, Proximus wants to remove the barriers to mobile data usage. For less than €20 per month 1, Epic users can share their most unforgettable moments endlessly and listen without limits to their favorite music. The interactions with the customer have also been fully adapted to the needs and expectations of millennials, to give them a totally digital "Epic" experience.

Millennials: new generation, new habits
Millennials – the generation of 2.5 million Belgians born at the turn of the century and today aged between 18 and 35 – have a different approach to life than the rest of the population. They have an open and realistic view of the world, often a strong interest in music, gaming, lifestyle and sport, and they are "experience-driven": determined to get the most out of life and have fun.
This vision on life is also reflected in different mobile habits:
Millennials are always connected. More than 90% of 18 to 35-year-olds have a smartphone.
Four in five use social media daily on their smartphones to share experiences with friends.
Viewing and listening to content on a mobile device is the order of the day for millennials: 66% watch video clips regularly and more than half stream music.
Epic beats and Epic stories: endless sharing and listening
Proximus wants to offer a mobile experience tailored to this generation. To achieve this, Proximus set up a co-creation project: a squad made of employees under the age of 35 and millennials build an authentic offer that fully meets their real needs and expectations by making their mobile experience truly epic.
The result: a simple and attractive offer with unlimited data for the most popular apps , at a competitive price. All of this accompanied by a rejuvenated communication, a digital customer service via social media, and a new app, Proximus Epic. And the fun aspect has not been overlooked either: on top of all the surprises via social media and the new app, Proximus will be present at the festivals all summer long, to give the favorite music of millennials an epic dimension.
The Epic offer is available in two separate formulas:
Epic stories (€19.99 per month)
Endless sharing of experiences thanks to unlimited use of Facebook, Facebook Messenger, Instagram, Pinterest, Snapchat, Twitter and WhatsApp. On top of that, users get 3 GB extra data for other mobile data usage, 60 minutes of calling credit, and unlimited text messages.

Epic beats (€24.99 per month)
Besides unlimited use of social media like in Epic stories, Epic beats offers unlimited music streaming via Apple Music, Deezer, Google Play Music, SoundCloud and Spotify. Users of Epic beats also get 3 GB extra data for other mobile data usage, 60 minutes of calling credit, and unlimited text messages.
1 Especially for the launch, Epic beats (€24.99 per month) will be offered to everyone at the same price as Epic stories (€19.99/month) for six months.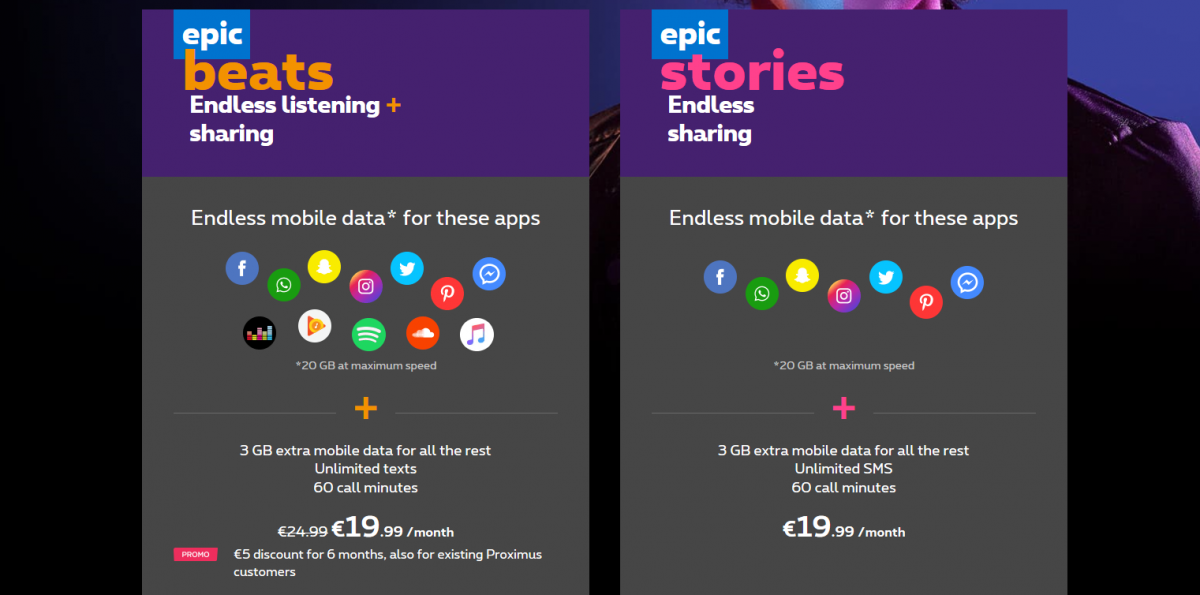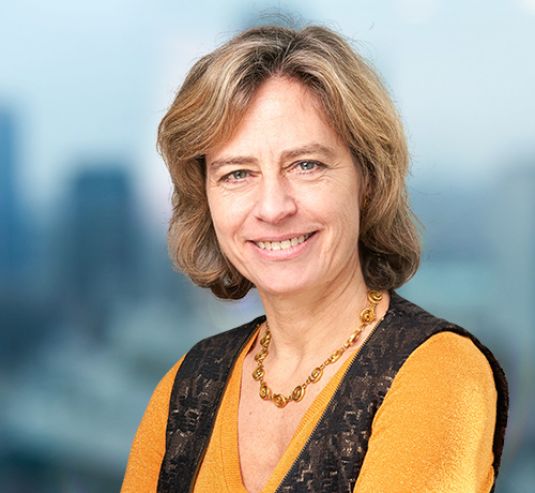 The launch of Epic is a nice example of the transformation of Proximus. In co-creation with millennials, we mapped out their ever-changing needs in order to better respond to them. With Epic, we are launching a new experience for and by millennials. This innovative mobile offer allows them to share their most unforgettable moments without worries, and enjoy their favorite music without limits. Furthermore, with a strong focus on offering the ultimate digital experience, we are exactly where they are. And all of this for a competitive price.