An avalanche of international sports on Scarlet TV
Eleven Sports available with Scarlet as of 1 August 2017
Scarlet Trio, a simple and less expensive offer
Scarlet's mission? To offer simple telecom solutions and, above all, at the best price. It is in this spirit that Scarlet Trio, the cheapest triple-play subscription on the market, offers unlimited Internet, fixed telephony and digital television for just €39 per month.
What kind of TV content do you get at such a low price? For €39, Scarlet customers have access to a basic selection of 30 main channels. Aside from the regular French-speaking channels (RTBF 1 and 2, RTL-TVI, Club RTL, Plug TV, etc.) and Dutch-speaking channels (één, Canvas, VTM, VIER, VIJF, etc.), there are also various theme channels such as Disney Channel, Nickleodeon, Viceland and BBC.
Scarlet Trio, a flexible package!
But Scarlet Trio is also about flexibility. That's why Scarlet is offering its customers a range of options allowing them to adapt their TV package according to what they want. With the channel packages Kids Channels (€5.95) and Entertainment Channels (€9.95), Trio customers can extend the number of channels included in their subscription and enjoy the best cartoons and series for children, movies, series and documentaries on nature, science and discovering the world. Football fans will also be well served thanks to the Belgian Football option (€11.95), which gives access to all Jupiler Pro League matches (including the play-offs) and all Proximus League matches.
It must be noted, however, that Belgian football aside, Scarlet's TV sports content was still limited. But that's now a thing of the past!
Big news for sports fans!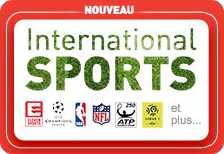 On 1 August, Scarlet will expand its range of TV options with a completely new thematic channel package: International Sports.
For a price of €9.95 per month, this channel package will give access to, among other things, the Eleven Sports channels which broadcast the best of European football and international sport.
They will enable Scarlet customers to follow the Spanish Liga, the Italian Serie A, the French Ligue 1, the English FA Cup & Capital One Cup, along with other sports such as basketball (NBA), tennis (ATP 250) and American football (NFL).
International Sports will also provide full coverage of the UEFA Champions League (on the Proximus 11+ channel), motor sports, extreme sports and much more besides.
The channels included in the package are Eleven Sports 1, 2 and 3, Eurosport 1 and 2, Proximus 11+, Motorsport.tv, AB Moteurs, Sport 10 and Extreme Sports Channel.
Finally a less expensive alternative for sports fans
As the table below shows, the launch of this new channel package will enable sports fans, concerned about their telecom budget, to opt for a less expensive alternative with Scarlet. With Scarlet Trio they will now follow their favorite competitions, among other via Eleven Sports Channels, for only €48.95 by month, which possibly represents a significant saving.
Introductory offer – 1 month free
To mark the occasion of this launch, Scarlet will give all its existing and new TV customers free access to all the channels included in International Sports between 1 and 31 August 2017.
Comparative table
Click on the image to enlarge