Be-Mobile launches new 4411 app
4411, the service for mobile payments of parking and public transport tickets, reinforces its position as the largest Mobility-as-a-Service platform in Belgium via the launch of a renewed mobile application. The numerous new features increase the ease of use and provide access to an even wider range of smart and sustainable mobility solutions. Thanks to the centralization of different services, 4411 is increasingly emerging as a comprehensive and integrated mobility tool.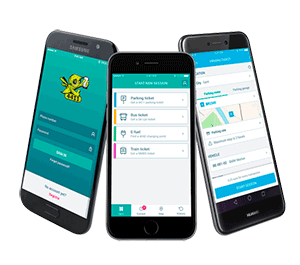 Look & feel of the new 4411 Mobility-as-a-Service app
The launch of the new application for smartphones and tablets is accompanied by a considerable extension of the service offering. For example, in addition to the already available m-tickets it is now possible to purchase a De Lijn 10-journey card via the mobile app. As from this autumn, as part of the "Slim naar Antwerpen" ("Smart ways to Antwerp") project, Be-Mobile is also making combined tickets available in the 4411 app. This will allow drivers to make use of the park & ride facilities around Antwerp before they continue their journey by tram or bus.
In the course of this year, Be-Mobile will integrate various new mobility solutions into the app, such as the possibility to purchase SNCB train tickets or use car and bicycle sharing services. To make the process even more worry-free for users, additional methods of payment by debit and credit card and via digital parking vouchers have been integrated into the app.
Be-Mobile and 4411: from parking app to Mobility-as-a-Service platform
In addition to the extended offering and increased ease of use, the new 4411 app will strengthen the integration between the different mobility services. For instance, the app contains an intermodal route planner which not only guides users to the right parking space, but also informs them about the most efficient and sustainable route to their end destination.
Another new feature is that when paying for a parking space, users no longer need to tap in the number of the parking meter. If you are in a pay zone, geolocation makes it easy to see the applicable tariff and start the parking time at the touch of a button.
Finally, the 4411 services will soon become available in third-party apps such as the KBC Mobile app. Through "application programming interfaces" (APIs), users of these apps will get direct access to the 4411 service.
We want to offer our customers the most extensive and qualitative mobility offering on the market. In doing so, we don't want to be just a payment solution provider but also help users to make informed mobility choices. The intensive integration and centralization of different services will enable us to carry through our evolution to a comprehensive Mobility-as-a-Service platform.
Over 45 million parking tickets and 21 million public transport tickets
The 4411 service is provided by the Smart Mobility company Be-Mobile, a Proximus subsidiary specialized in Mobility-as-a-Service applications.
4411 took on a pioneering role in the development of mobile parking tickets. Since its creation in 2006, more than 45 million parking sessions have been paid by SMS, via the Internet or through the app. Today, 4411 is responsible for more than 220,000 pay-for parking spaces in 52 Belgian cities and municipalities. 4411 was also a pioneer in the digitization of De Lijn public transport tickets. Over a 10-year period, Proximus customers purchased more than 21 million SMS and m-tickets.
With 1.7 million users, 4411 is today's largest "Mobility-as-a-Service Community" in Belgium.
Links