Proximus accelerates Fiber installation in the Liege region
Proximus organized a press meeting today to give an update on the rollout of its open fiber network in the Liege region. In addition to a status on the city of Liege and Seraing, explanations were given on the works in the cities of Ans, Awans, Grâce-Hollogne, Herstal and St Nicolas. By the end of 2025, Proximus will provide over 200,000 homes and businesses in the Liege region with a fiber connection.
Now more than ever, Belgian citizens and businesses need reliable, fast connectivity. Hence the importance for them to be able to have access to fiber in the years to come. For residential customers, this technology allows all family members to (tele)work, surf, stream videos and play online simultaneously, without latency or loss of quality. Fiber offers huge advantages for businesses, allowing them to exploit all the opportunities of digitalization and remain competitive, flexible and innovative. More generally, it is true to say that broadband networks such as fiber are now an essential component of public utility infrastructure, up there with water or electricity.
At national level
In December 2016, Proximus launched the "Fiber for Belgium" investment plan. The aim of this ambitious plan, which represents an investment of more than €9 billion, is to roll out fiber to the vast majority of businesses and urban centers in Belgium and to cover at least 95% of the Belgian population by 2032, i.e., 5.9 million homes and businesses. The speed and scope of the project have increased considerably thanks to the creation of joint ventures Fiberklaar in Flanders and GOfiber and Unifiber in Wallonia, which enable Proximus to step up the pace and also to extend its fiber network to areas with medium population density.
97% of the city of Liege and its surrounding area will be covered by 2025
With deployment speed and efficiency increasing steadily over the years, Proximus' target is to roll out optical fiber to 97% of the population of Liege and its surrounding area by 2025.
Liege is one of the first cities to benefit from Proximus' investment program, designed to bring fiber to every home. Fiber roll-out got off the ground in 2017 simultaneously in downtown Liege and in the business parks located on the outskirts. 2022 saw a marked acceleration for Liege's population and today Proximus covers 58% of the entire city with more than 71,000 connectable homes and businesses. This makes Liege one of the five Belgian cities to benefit, since the end of February, from 10 Gbps technology, by far the fastest Internet in Belgium. Fiber coverage in Liege should reach 99% of the city by the end of 2025.
In Seraing, Proximus began installing fiber in 2021 with the aim of covering 32,800 homes and businesses, i.e., almost 100% coverage of the city and its surrounding area by the end of 2025.
The roll-out is set to pick up speed in the Liege region with the start of work planned in the municipalities of Ans, Awans, Grâce-Hollogne, Herstal and St Nicolas. Proximus' ambition is to cover just over 200,000 homes and businesses, i.e., a 97% coverage rate in Liege and its surrounding area by the end of 2025.
The roll-out of fiber heralds a new era for the digital revolution in the Liege region. Thanks to fiber, private customers and businesses will be able to benefit from an unparalleled digital experience, which will surely boost growth and employment in the city and in the surrounding area.
Fiber is being rolled-out in several phases, in close consultation with the authorities of each municipality.
The current map of Proximus roll-out in the Liege region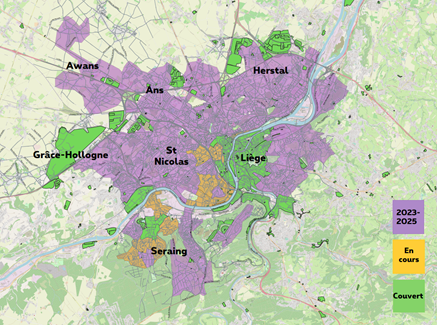 In green, existing coverage – including business parks
In yellow, coverage underway
In mauve, coverage planned for 2025
An open network: The network rolled-out by Proximus is completely open. Thanks to this characteristic, any operator can benefit from this network to offer its services. Today, over 35 operators already have an agreement with Proximus to use these gigabit networks.
Keeping inconvenience to a minimum: Any inconvenience caused by the works are kept to a strict minimum. Before work starts, Proximus carries out an analysis to optimize the roll-out and opts for facade installation as far as possible, rather than going underground, especially in densely built-up areas. This will make the roll-out much faster, with limited inconvenience for local residents.
Proximus is also in contact with various players in the Liege region such as the various police districts, the municipalities concerned and other key players to optimize the synergies linked to the works and minimize the impact for residents.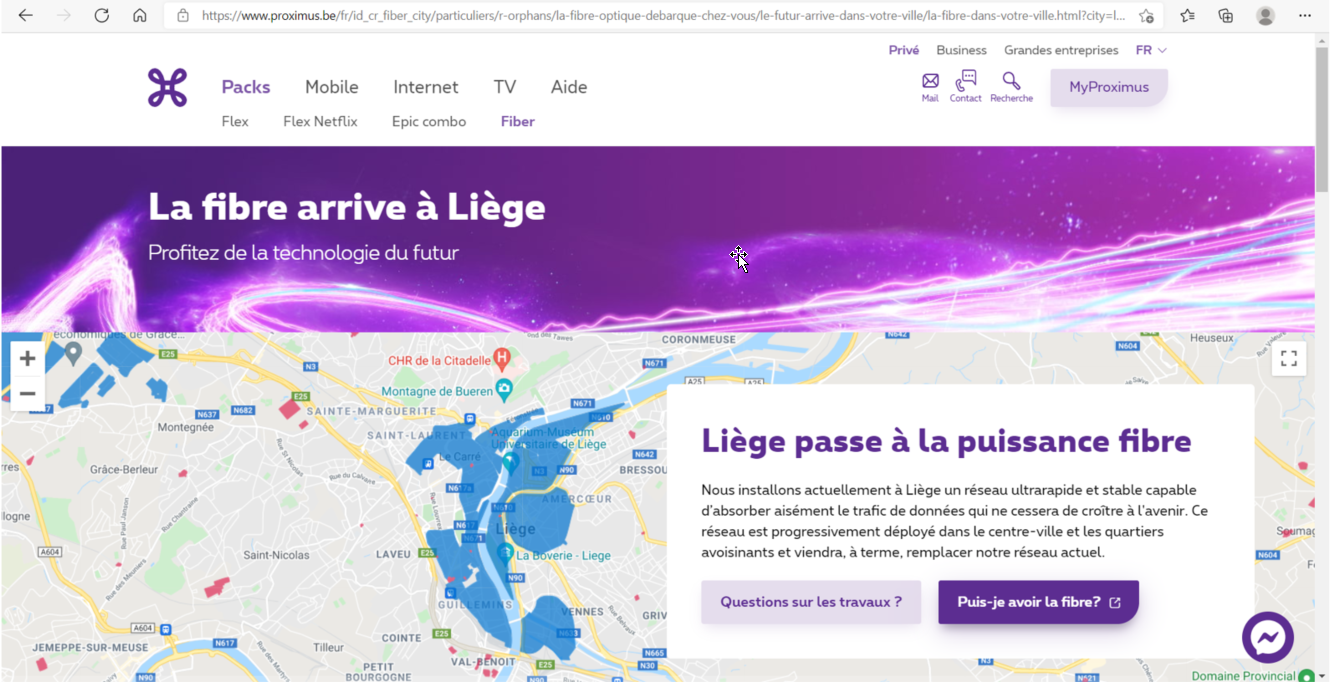 Communication to customers: As soon as one neighborhood is completed and enough customers can be connected, Proximus launches a specific local communication campaign for the inhabitants. Customers are contacted personally and Proximus carries out door-to-door visits and local campaigns, going out to meet the local population at local markets, etc.
A web page and an 0800 number have been dedicated to each of the municipalities where fiber roll-out is underway or completed. Below you will find the e-mail addresses and telephone numbers for each municipality.
If you have any further questions, please contact the Proximus press service.