Proximus is improving its customers' Internet experience and satisfaction using the Tessares hybrid access solution.
The current situation
Today, some customers -typically those located in less densely populated areas of our country- do not yet benefit from super-fast internet because of the relatively high distance between their home or office and a street cabinet. This has a negative impact on the bandwidth delivered by the xDSL technology and is a source of frustration and customer dissatisfaction.
The networks converge
Hybrid access technologies allow telecom operators like Proximus to combine bandwidths of fixed and mobile networks. The innovative software solutions developed by Tessares and chosen by Proximus improve internet performance without deployment of new infrastructure. This solution involves bundling the available access networks and is built on the multipath TCP standard.
This hybrid solution makes it possible to extend access to super-fast internet and boost substantially the speed experienced by the customer.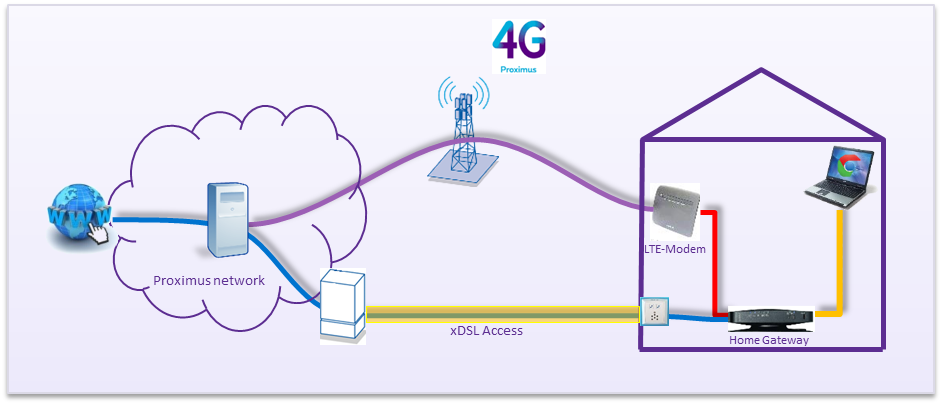 Proximus is considering the extension to more use cases, based on the proven value of the Tessares hybrid access technology, both in Consumer and Enterprise environments.
A new technology launched as a world premiere
After a study phase and laboratory tests, it is in Frasnes-Lez-Anvaing that Tessares' innovative solution has been monitored and tried out since mid-2016 in a real-life environment by Proximus customers living in one of the least densely populated areas of the country. A world premiere!

A very high satisfaction rate was achieved amongst Proximus customers as they could enjoy internet speeds substantially faster than before.
Things really improved since my download speed has increased by up to five times.

I would recommend the solution because it's quite simple.
Some months later the trial was extended to a nationwide scope, where the outstanding satisfaction level of customers having access to hybrid access was confirmed.
This outcome convinced Proximus to launch and make hybrid access available to all customers in less densely populated areas, where applicable. This solution is now being gradually installed until end-2020 for existing customers and is provided to all new customers, where beneficial.
Customer experience
As the solution is based on the existing networks, the installation on customer premises is incredibly simple and is limited to connecting an LTE modem to the existing home gateway.
In less than 15 minutes, the customer enjoys super-fast internet access through this new hybrid solution.
Answering local and European ambitions
In Wallonia, making hybrid access available to all customers with low-speed lines ties in perfectly with the dynamics of the "Digital Plan" developed by minister Marcourt, who aims to ensure there is access to super-fast internet throughout the Walloon Region.
It s more than a solution, it's an opportunity for the future with potential not just for Wallonia, or Belgium, but across Europe! - watch the video testimonial
It will also allow Proximus to contribute to reach the European ambitions of the "Digital Single Market" where one of the goals is coverage of next generation networks (NGN): 30 Mbps or more for all citizens by 2020.
About Tessares
Tessares, the 70th spin-off of Université catholique de Louvain (UCLouvain), was founded in March 2015. It is a technology company active in the research, development, go-to-market and deployment of software solutions that significantly improve internet connectivity without requiring significant investment in network infrastructure. The current 4G+DSL bonding solution that boosts broadband speeds is achieved using our optimized and standards-based Multipath TCP (MPTCP), an extension of TCP. This protocol has been recently selected by 3GPP as the underlying protocol for ATSSS, a key function for the convergence of 5G and Wi-Fi networks.