A net positive contribution to the environment

In addition to climate neutrality, companies want to go a step further in their fight against global warming and make a net positive contribution to the environment. But what does net positive actually mean?
A net positive contribution to the environment
Our climate deserves our greatest attention, and global warming has become a reality we have to deal with, that's undeniable. Any further global warming must absolutely be kept under control.
To achieve this, scientifically based targets were set in the Paris Climate Agreement, with the aim of limiting global warming to below 2°C. Accordingly, we need to drastically cut our CO₂ emissions and use green, sustainable alternatives in our daily life and work. Failure to meet these targets will cause irreversible damage to the environment, and will have disastrous consequences for humans, animals, and plants.
Net positive: a new vision for the future
Sustainable enterprise with a focus on the climate has also become very important in the business world. Many companies have set very strict standards for themselves when it comes to reducing CO₂ emissions and using renewable energy for their activities. Sustainability is also at the forefront of our activities at Proximus: we have integrated sustainability at the heart of our #inspire2022 strategy and have been a climate-neutral company for our own activities since 2016.
The concept of climate neutrality can be regarded as a balance, with the 'harmful' factors on the one hand (e.g. CO₂ emissions from the combustion of fossil fuels in cars) and the initiatives to cancel them out on the other (durable projects for the reduction or absorption of CO₂ emissions, the use of green energy). If you succeed in bringing the scales into balance, you can speak of neutrality.
In recent years, however, a new concept has emerged that goes a step further: 'net positive'.
What is net positive?
The vision of 'net positive' was first put forward by the Forum for the Future, the WWF, and the Climate Group organizations. They believe that net positive enterprise is the way to act in order to guarantee a good future for our planet and ourselves.
Net positivity is the next step after climate neutrality. The aim is not only to keep the scales in balance, but rather to tilt them to the positive side. Or, to describe it in simpler terms, to do more 'good' for the environment than 'bad'.
The following graph makes this clear: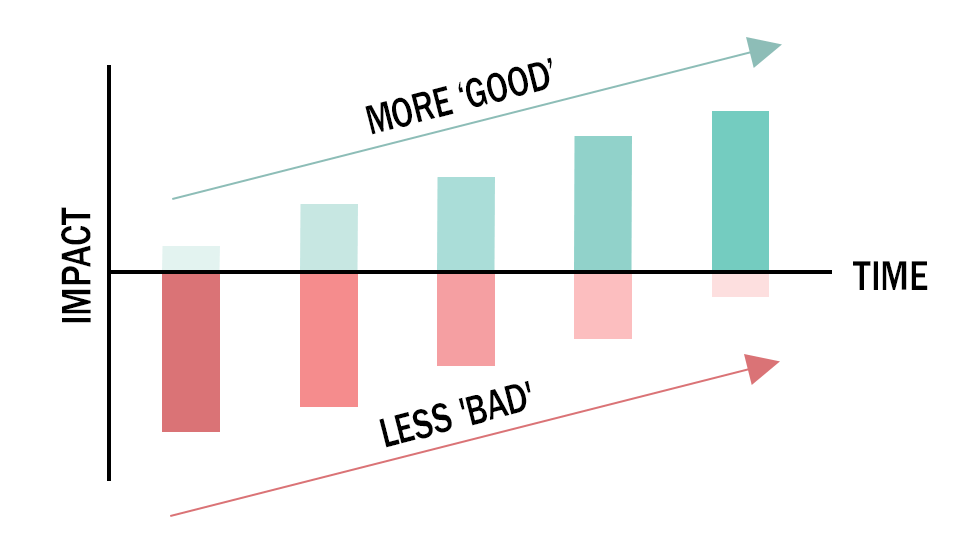 (source: The Climate Group)
Together with the customers for a durable solution
As a company, Proximus wants to contribute to this net positive dynamic by helping to reduce the carbon footprint of its supply chain and customers on top of ensuring its own carbon neutrality for the activities under its direct control.
We do this by offering our customers energy-efficient devices, for example, and extending the lifespan of our devices. In addition, we offer our customers innovative solutions that greatly reduce or even avoid CO₂ emissions, such as cloud or IoT solutions for our business customers that enable them to manage their energy consumption or mobility in a smart and green way, video conference solutions, parking management systems, smart buildings, etc.
Limiting global warming to 2°C
Corporate social responsibility is a must nowadays, and most companies are working effectively toward this, and emphasizing sustainable enterprise in their strategic objectives. It is thereby important to work with clear goals and objective figures, to be able to measure the impact of the actions. For this, there are various scientifically based initiatives to which you can subscribe as a company.
Proximus is one of approximately 1,000 companies in the world that have adopted the Science-Based Targets initiative (SBT) method for their CO₂ emissions. Companies from all over the world can make a commitment with this organization, and demonstrate which initiatives they are taking to contribute to that goal of limiting global warming to 2°C or 1,5°C. The results and figures are checked and validated by this international organization, and the company receives official recognition following a positive evaluation.
We committed with SBT to reducing our own emissions by 30% between 2015 and 2025, and reducing our indirect emissions (by our customers) by 10% between 2014 and 2025, and by 50% between 2014 and 2040.
All of this to achieve our goal and make a net positive contribution to the climate by 2030.