Passionate about all things agile, scrum and cloud? You've come to the right place!
If you're ready to shape the future of digital, apply for a job at Belgium's largest IT employer today. Put your talent to work to support tomorrow's digital transformation, and get your daily dose of IaaS, PaaS and AI in the process.
Proximus, of course!
As an IT guru, you're bursting with talent— and you won't put it to good use with just any organization. At Proximus, we provide an environment that will allow you to invest your skills optimally and realize your full potential. Moreover, we'll avail a framework for you to thrive in, with cutting-edge technology and innovative ways of working.
100% Belgian company
Largest ICT employer in Belgium.
Challenging projects
Personal development through the Proximus Corporate University
Excellent work-life balance
Attractive salary package
Digital work environment
Proud winner of the Corporate IT Awards 2022 in the category:
"Best long lasting IT employee experience & retention programs".
This Award crowns our initiatives such as going the extra (s)mile to hire the right profiles, repurpose talent management strategies, improve our talent agility and resilience, enable employee mobility, set up reskilling/upskilling programs, and keep our Tech workforce engaged in a smart way.
Read the press release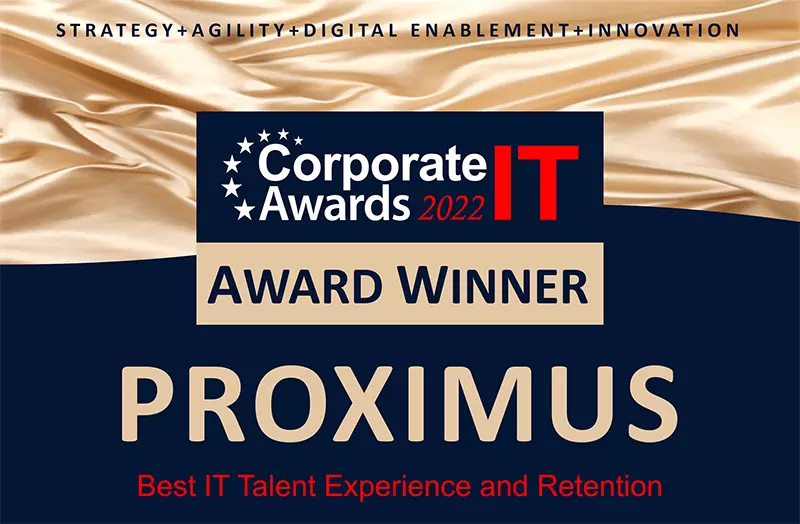 That's why you fit in
You change the world

Put your talent to work to create the digital future, with solutions that truly make the difference in our customers' daily lives. And do it at a 100% Belgian company that challenges you to always grow.

You don't care for sitting still

Get on board and shape a story of ground-breaking innovation. Be the first to develop, build, integrate or maintain the latest technologies and turn them into customer-focused solutions with impact, together with your co-workers.

You want to grow

Your talent knows no bounds. Develop your ambitions. Discover new ways of working. Grow at your own pace with our Proximus Corporate University, where you have the opportunity to continuously develop and perfect your skills.

You want to work as a team

Work with your colleagues and make each other even better, in a work environment you enjoy. Join the employer that maximizes your work-life balance and has countless benefits to offer you and your family.
Shape the future of digital with us
The future of digital is on our doorstep, and we need you to shape it with us. Do what you do best. Create digital solutions that make life easier. Connect everyone and everything. You don't care for sitting still, you'd rather set the world in motion.
Think possible
Watch our recruitment video here!